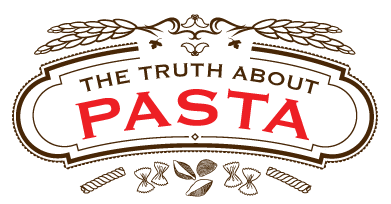 To combat the rise of unhealthy fad diets creating misperceptions about carbohydrates, the International Pasta Organisation (IPO) has launched a new communications program, "The Truth About Pasta." Designed to connect with consumers as well as key opinion leaders, the program reinforces that pasta fits into a healthy lifestyle.
The IPO outreach program reinforces five good reasons consumers can continue to enjoy pasta as a delicious part of a healthy eating plan to help manage weight and prevent disease — as people around the world have for hundreds of years:
Pasta is good for you and the planet
Pasta is the pillar of the Mediterranean Diet
Pasta is energy that keeps you fuller for longer
Pasta does not make you fat
Pasta is tasty and brings people together
Elements of The Truth About Pasta program include:
The Truth About Pasta Newsletter. Created by Oldways, the new e-newsletter will include scientific updates/links to interviews and presentations, provide pasta tips from healthcare professionals, as well as highlight key news stories about pasta. The newsletter will be distributed monthly to journalists, health professionals, opinion leaders and IPO members throughout the world. Join our Mailing List to receive a free copy. The first issue, "Pasta is Good for You," is available here
The Truth About Pasta Tool Kit. Highlighting 5 Good Reasons to Love Pasta, the Tool Kit is designed to offer science-based support of pasta as part of a healthy lifestyle. It includes facts sheets, a summary of health studies related to pasta and the Mediterranean Diet, the Healthy Pasta Meal Scientific Consensus Statement (2015), pasta stats/figures, healthy recipes, health tips, etc. The kit will be adapted/translated by IPO members and used worldwide.
2015 Healthy Pasta Meal Scientific Consensus. During World Pasta Congress in October in Milan, Oldways organized a scientific committee to update the 2010 Scientific Consensus Statement. The meeting featured scientists from 9 countries ( Argentina, Brazil, France, Greece, Italy, Mexico, Portugal, Spain, and U.S. )exchanging information about their latest research on carbohydrates, nutrition, health and pasta. This research was summarized in the Consensus Statement in a form that can be used by doctors, health professionals, dietitians, scientists, media, the food industry and consumers. Top Russian scientists added their names to the Consensus Statement during the 2016 World Pasta Day event in Moscow.
IPO has set up an international working group, which meets regularly to discuss the plan and share information about national programs. Interested stakeholders including pasta makers, millers, durum wheat growers unions and others, are invited to join the IPO Communications Working Group to participate.
Truth About Pasta
Pasta is delicious, sustainable, healthy and convenient. Consumers can enjoy pasta as a delicious part of a healthy eating plan to help manage weight and prevent disease — as people around the world have for hundreds of years. Read more to learn the truth about pasta.