Kelly Toups, MLA, RD, LDN
Oldways Registered Dietitian
Kelly is a registered dietitian at Oldways, a nonprofit inspiring good health through cultural food traditions and lifestyles. She joined Oldways as Program Manager of the Whole Grains Council in the summer of 2014. A native Texan, Kelly graduated from the University of Texas with a nutrition degree and became a Registered Dietitian. Kelly's passion for delicious and nutritious food developed after studying the Mediterranean diet in Sicily, and interning at the global headquarters of Whole Foods Market.
From there, Kelly decided to complement her nutrition background with a Masters in Gastronomy from Boston University. While in Boston, Kelly helped research Frances Moore Lappé's upcoming book on World Hunger, and also managed an award winning healthy eating program for Boston College Dining Services.
Here are Kelly's tips: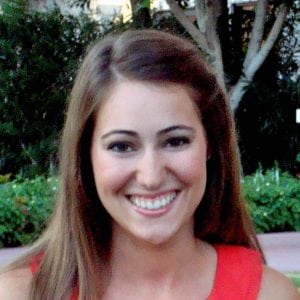 Draw inspiration from the Mediterranean. Nutrition experts agree that the Mediterranean Diet is one of the healthiest eating patterns on the planet. Enjoying a healthy pasta meal, complete with olive oil, tomatoes, vegetables, and herbs, is the perfect way to honor this much-loved, healthful cuisine. 
Eat mindfully. It is easy to keep eating and eating, especially when faced with large restaurant portions. Savor your food slowly, and be present with friends and family at the table. Pasta is a satisfying food that keeps you fuller for longer so a healthy serving goes a long way.
Fill half of your plate with vegetables. For a healthy pasta meal, pair 1/2 to 2/3 cup cooked pasta with a generous amount of veggies, a gentle drizzle of olive oil, and a healthy protein like fish, beans, or chicken. Garnish with fresh herbs for an additional layer of flavor.
Choose complex carbs. The complex carbohydrates in pasta digest slowly, to help keep you full. In fact, many people are surprised to learn that pasta is actually a Low Glycemic index food, meaning that it has a better impact on blood sugar. Whole grain pasta, which has additional fiber, protein, and micronutrients, is another great way to get complex carbohydrates.
Try a one-pot pasta. To save energy, water and clean up time, prepare a simple pasta meal in one pot. Take a lesson from Martha Stewart – her One-Pan Pasta has been dubbed "genius" and has spread to food enthusiasts worldwide. Nine minutes, one pan, healthy dinner.
Watch how to make Martha Stuart's Original One-Pot Pasta: